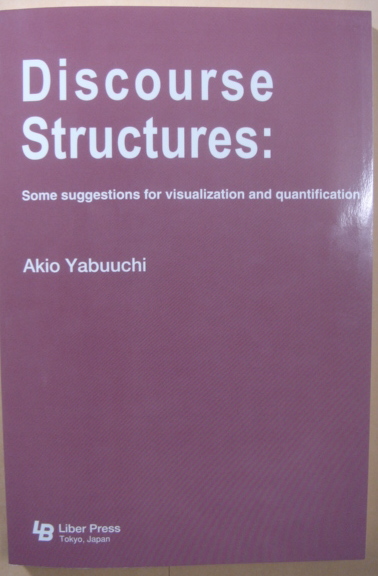 定価:2625円
(本体2500円+税5%)

 


Discourse Structures:
Some suggestions for visualization
and quantification
 
ISBN4-89798-642-7

Discourse analysis by ethnomethodological techniques, the main stream of today's discourse analysis, is characterized by analysis of discourse which actually occurred in

particular settings.

Therefore, the rules and structures found there may be able to claim only limited applicability.

Also, their structural descriptions are, in many cases, explanations by language.

The greatest feature of this book is the fact that it suggested some techniques to visualize or quantify discourse structures.

This book presents top-down theoretical frameworks for analysis, in both spoken and written modes, for the macro structure of discourse, the structure of information flow, the structure of topic transition, and the structure of discourse as comprehension and production processes.

It also presents sample analyses and diagrams based on the theoretical frameworks suggested there.
[今日の主流であるエスノメソドロジーの手法による談話分析は、特定の状況において実際に起こった談話の分析を特徴とする。従って、その結果得られる規則・構造は限定的な状況にしか適用できないものも少なくない。また、その構造記述も言葉による説明が大部分である。本書は、話し言葉・書き言葉の両方にわたり、談話のマクロ構造、情報の流れの構造、話題の変遷の構造、理解・生産プロセスとしての談話の構造等について、まずトップダウン式に分析の理論的枠組みを提示し、それに基づいて実際の談話の構造を目に見えるかたちで、あるいは数字として表れるかたちで描いたことが大きな特徴である。]